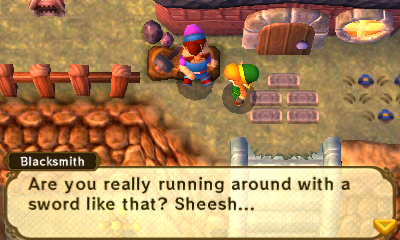 The release of The Legend of Zelda: A Link to the Past over two decades ago garnered a lot of praise and many people still consider it the best in the series. Over twenty years following its release, Nintendo finally brings its direct sequel exclusively to the Nintendo 3DS. Initial thoughts? I was excited and curious wondering what new things that could be featured in this game. Let me save you the suspense; A Link Between Worlds has now become my new favorite Zelda game, replacing the Wind Waker, Ocarina of Time and of course, A Link to the Past.
A Link Between Worlds takes place a few generations following the events of the first game. In the span of time, many would've thought that Hyrule and the surrounding areas would have changed. Well, what you remember back then in A Link to the Past, you will be returning to, giving you all sorts of nostalgia as you go along the way. Story-wise, it's on par to every Zelda title released which is simple but good. In the game, you will once again be Link, the new Hero of Hyrule, who will be tasked with saving Zelda and the seven sages that have been kidnapped by an evil man named Yuga. Imprisoning them through paintings in the world of Lorule, Link will be going back and forth between worlds as he finds a way to free every single one of them. Fortunately, Link will be aided by the magical bracelet which was given to him by a merchant named Ravio. With the bracelet itself, Link can transform into a painting and move along walls in glorious 2D – Yes! This is the new ability that Link can use and it's a neat addition to the game.
The worlds of Hyrule and Lorule are beautiful. Retaining the style that A Link to the Past had, Nintendo somehow manages to mix the style from old and new to make it appealing to a wider audience. The layout of the game is exactly the same as the previous title, but the sprites and landscapes have been improved. The colorful kingdom of Hyrule and the gloomy Lorule easily pop out and they look beautiful. Whenever Link engages in a conversation or a cutscene, it will switch into 3D style where you will see their full emotions. Unfortunately, voice overs are still missing, but who needs them anyway when catchy and memorable tunes are there to entertain you.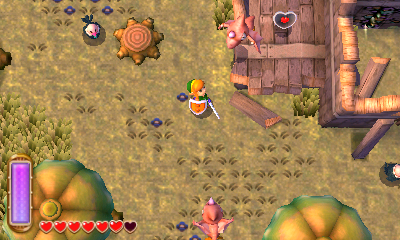 Lorule is a world newly introduced in A Link Between Worlds. In this game, Lorule is the alternate universe of Hyrule portrayed as a dark and gloomy world. Replacing Zelda in Lorule is a priestess named Hilda who helps Link in his adventures as he saves the Seven Sages and Zelda. In his fifteen hour adventure, Link will be going through both worlds and what happens in Hyrule effects Lorule. If there are times you are stuck in one world, you can go to the other and see what's causing them. The two worlds have a connection and this game will make you find what it is and allow you to explore and reveal its secrets. One thing though, you must be ready if you are in Lorule as enemies are tougher and they don't tolerate weakness.
When playing past Zelda games, many may have remembered that getting into the first dungeon or getting your sword actually takes an hour or two. In A Link Between Worlds, that completely changes as you can get right into the first dungeon ten to fifteen minutes after waking up in your bed. Yes, you can get your sword immediately and start your exciting new adventure without the long introduction and tutorial that Zelda games used to have.
One big change fans will notice in A Link Between Worlds is the freedom to choose which dungeon you would like to do first. Unlike past Zelda games where you are forced to do a a certain dungeon, you are free to choose whichever you want, as long as you have the right tools. Luckily, all tools will be available after completing the first dungeon. At the house where you wake up at the beginning of the game, you will find a shop there that allows you to rent or buy them. With this new change, it allows you to have them all at once, as long as you have rupees. With all of the tools available in your arsenal, dungeons that requires certain tools to be completed can be done since you will have access to them.
The Legend of Zelda: A Link Between Worlds (3DS) Review

,