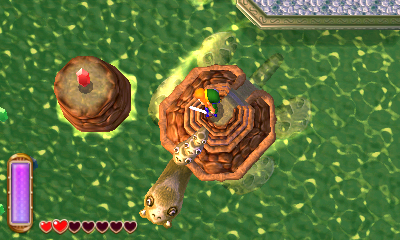 Exploring dungeons are the same. You will be solving through puzzles and looking for keys to open doors. For me, I found the puzzles to be easy. Some of the familiar monsters or enemies found in the dungeons of the first game are there and it gives such a good feeling seeing them once again. As always, there will be mini-bosses and treasure chests along the way. The compass is there to act as your guide, that way, you know where the bosses are. When it comes to boss fights, they are not hard as they have a pattern. If you manage to survive the bosses of the first game, you will definitely not have a problem in A Link Between Worlds. Beware though, a few bosses late in the game will be tough and I'm sure it will give you headaches.
Dying in this game will give some sort of penalty. If you have decided to rent out the tools that you have bought, the moment that you die, it will be taken by the shop owner and you will have to rent them again. If you have thousands of rupees in hand, you can easily buy them but with them costing so much, you will rather rent, though dying a lot will suck since you will have to re-rent them. As for when you die in a dungeon, you will be given a choice whether or not you would like to respawn at your house or at the beginning of the dungeon. Since you have just lost all of your tools, it's logical to return to your house and re-rent the tools you previously had.
As mentioned earlier, allowing Link to turn into a painting is an awesome ability for him. With that new power, you will have a reason to check every nook and cranny of both worlds. Whenever you see a wall, I suggest to use the painting ability and go to the other side as who knows what you will find. The world of Hyrule and Lorule holds many secrets and exploring them bit by bit will make the adventure in both worlds a satisfying one. If you are worried about back tracking and stuff, there's now a fast travel that you can opt to do. Simply activate one of those Weather Vanes that you see in dungeons or selected locations and ring the bell the Witch gave you to travel around worlds.
Playing through the game isn't always a happy moment. Since A Link Between Worlds retains the classic gameplay of its predecessor, there will be times you will find exploring and doing other things to feel quite tedious. For someone who has played and loved A Link to the Past to the death, I can't help at times but get bored and it happened once again in A Link Between World. How the game works and the pacing is the same and I can't blame you if at some point you got bored of it, maybe because you've been playing too much. However, that boredom will subside after a few minutes of resting as you will want to go back and finish the game since you will want to know more.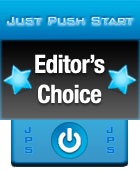 The Legend of Zelda: A Link Between Worlds took us by surprise when it was first announced. Knowing it's a direct sequel to A Link to the Past, many have anticipated that this game will return to its roots and it did. Actually, not only has this game returned to its roots, it actually added some new elements that makes this game shine. The new ideas are welcomed, along with its new style of visuals, impressive soundtrack and top-notch gameplay. If you have a Zelda game that you consider a favorite right now, playing this game might change that.
[Editor's Note: The Legend of Zelda: A Link Between Two Worlds was reviewed on the Nintendo 3DS. The game was provided to us by the publisher for review purposes.]
The Legend of Zelda: A Link Between Worlds (3DS) Review

,