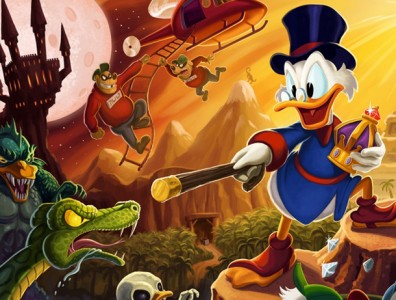 Ducktales Remastered was released for a number of platforms back in August and September, but with a digital release only. There is a retail release coming this Tuesday, November 12, for Xbox 360, PlayStation 3, and Wii U. We've known this for awhile, but now we know that there is a patch now available for download for the digital version of the game, and will be available to download as soon as you play a retail copy if you pick that up on Tuesday.
This patch aims to fix multiple stability and crash issues, as well as a number of somewhat little problems that were reported.
-Pogo fix- Some users reported that the pogo was unreliable. Tweaking the window at which the game looks for the pogo input seems to have fixed the issue. It seems that it was too short and that some users set ups were dropping input frames

-Flashing characters- Got rid of the flashing characters.

-Wii U crashing on the leaderboards

-Duckworth sometimes fails to lower down the safe.

-The title crashes to a black screen when skipping the pre-race cinematic of Magica and Glomgold.

-In certain conditions the title would fail to respawn correctly after a failed attempt for the race to the dime.
The biggest actual addition in the patch is the ability to skip cutscenes, which was one of the biggest complaints about the game. You have to have one full playthrough to activate what they are calling Quick Cinema mode, but if you did so prior to the new patch, you will be able to access it right away.