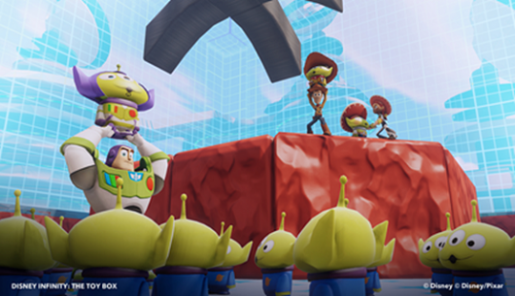 It didn't take Disney long to jump on the Skylanders-like game bandwagon with Disney Infinity. The game has been a big success since its launch with the modern day gotta catch 'em all aspect. Now Disney's latest video game feature has been updated with five new toy boxes for you to use for free.
Due to the large support from the community since launch, Disney is providing these five new toy boxes at no cost. The five toy boxes are as follows:
-Toy Story Claw – Find the 10 lost aliens and return them to their ship! Drop them into a ESPN hoop for extra credit.
-Big Thunder – Race through a mine inspired by the classic Disneyland attraction Big Thunder Mountain Railroad.
-Sky Gauntlet II – Play the sequel to the original Sky Gauntlet Toy Box … with an even more challenging course!
-Toy Story Racer – Ready, set, to Infinity and beyond! Race the AI in this Toy Story in Space-themed racetrack.
-The Sky Trials – Test your courage and wisdom to finish puzzles and get rewarded.
These latest toy box levels come very soon after the addition of two new characters, Rapunzel and Wreck-It Ralph. You can download these latest toy boxes and characters to play with today!