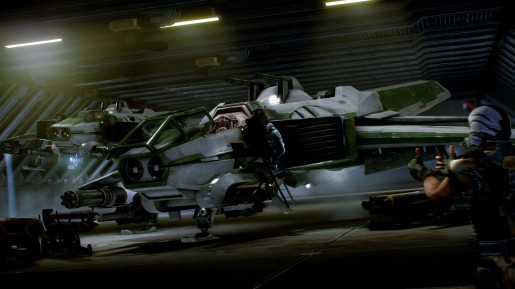 Chris Roberts, the man behind the Wing Commander franchise, has recently spoken out to end rumours about Star Citizen coming to next generation consoles.
Rumours have been circling the internet linking the currently in development crowd funded PC title Star Citizen with next gen consoles, since a PlayStation 4 dev kit was spotted at their office. The dev kit was noticed by an eagle eyed Star Citizen fan in one of the videos filmed around the Cloud Imperium Games office. May gamers were worried that by including consoles, even the next generation of consoles, would water down the Star Citizen experienced that had been promised.
Chris Roberts has now put an end to rumours by clarifying the teams view on bringing Star Citizen to consoles. Here are the important sections of Roberts full and lengthy post.
"Star Citizen will always be primarily a PC game and will embrace the best and newest tech.
As far as consoles go Star Citizen will never be on the PS3 or Xbox 360. As for the next gen consoles, PS4 and Xbox One, we have NO CURRENT PLANS, but my stance remains open and is consistent with the many interviews I've given – IF the platform holders (Sony & Microsoft) allow us to update the code and data without restrictions and odious time consuming QC procedures, IF they allow our community to openly interact with each other across platforms then I would CONSIDER supporting them."
Roberts interesting added that "To their credit Sony seems to be the most eager to embrace indie games and the idea of openness, and they chased us down to give us some dev kits to play with but we've been very clear on what it would take to get Star Citizen onto PS4."