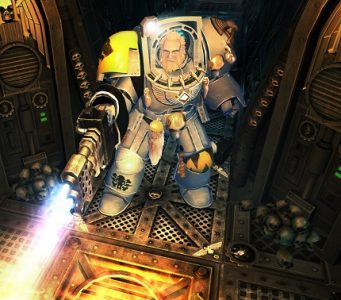 A little while ago, Space Hulk developer Full Control put out a few images showing the Space Wolf chapter on the decks of their recent Space Hulk video game adaptation of the classic board game and it looks like they may be soon to appear.
The quoted release date of 'late 2013' is fast approaching and a recent forum post from the developers stated that alongside the coming 1.3 update to the game would be two 5-mission campaigns as paid DLC. We don't know how much those are going to cost or exactly when they'll launch, but it's a fair bet that at least one will feature the Space Wolves – likely in an extended version of the 'Fangs of Fenris' campaign originally printed in Games Workshop's magazine White Dwarf, though that is unconfirmed.
The post detailed the features of the upcoming patch:
– 2 new campaigns with each 5 missions
– localization of all text in the game for German, Italian, Spanish, French and Russian
– additional performance improvements as spill over from the iOS porting
– several rule alignments with the board game
– a complete overhaul of all achievement code

And if we get it done in time (else next update)
– an additional Genestealer skin pack
– full controller support for Steam Big Picture
Hopefully we'll know soon the prices of the coming campaigns and whether they will feature the Space Wolves or if they're being kept leashed for a little longer.