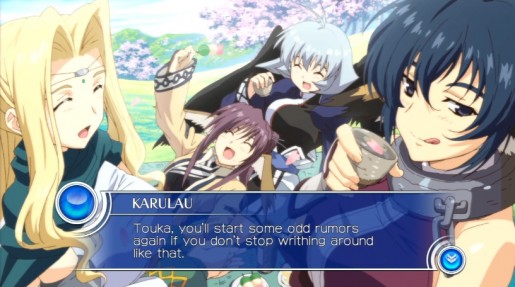 Coming by way of Atlus USA's localization teams comes a new fighting game developed by Examu, known for their work on the Arcana Heart series. Aquapazza: Aquaplus Dream Match is exactly as its name implies: a fighting game filled with characters from Aquaplus' various series.
Filling the roster in Aquapazza are characters from a number of visual novel series from the developer Leaf (Aquaplus acts as the publisher for a number of Leaf titles). Utawarerumono and To Heart mainstays fill out the majority of the roster along with cameos from Tears to Tiara and others Comic Party are also represented, but sadly only Yu and Mizuki are available and each are only usable as support partners. With the exception of Chizuru from Kizuato, in fact most of the lesser known titles are represented solely with support characters. Don't expect to see Satsuki Yuasa (Routes) or Rina Ogata (White Album) on the front lines for very long.
To players picking up Aquapazza's box for the first time, most if not all of the characters, would probably be unknown. After all, only a small selection of Aquaplus' games have had some presence in the United States and even then only in anime form. Most players picking up the game would have no idea that these characters are all based from various eroge, or erotic games from Japan. These adult visual novels and RPGs are some of the most popular ones overseas that there have been a number of releases with the adult content stripped away and still sold just as well as any other adventure game on the market. To-Heart, the title with the most presence of characters in Aquapazza, remains one of the most popular visual novels of all time in Japan even today.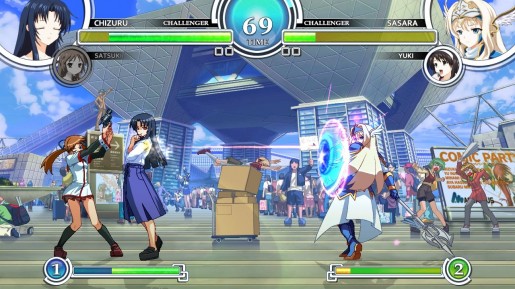 The support characters chosen during the character selection phase operate using the D button, and are the only things usable on that button. This mechanic is reminiscent of the Arcana attack from the Arcana Heart series, only with more limitations. Using your support character operates on a timer, so they are immediately usable when a round begins and must go through a short delay period before they can be used again. For fighting game players, the only attacks you'll be using for support are universal no matter which partner you choose: neutral D, back+D, forward+D, and down+D. There aren't any complex motions or delayed inputs to worry about as far as support attacks are concerned. If either the player or support are hit before the attack goes off, the support character retreats and the attack is nullified (the support gauge refills at a faster rate until it is full again, however). Some partners will obviously be more beneficial than others depending on your playstyle, as some will have options for wall bounce attacks or an OTG, a term given to attacks that lift an opponent off of the ground after they've fallen to continue a combo. Using a support attack by itself doesn't have any additional cost, but linking it into a combo requires one full super gauge to pull off. Giving someone the 'D' takes on a new meaning when you've got Rathty under your command and she starts swinging her giant hammer.
Beyond the support attacks on one button, the rest of the commands are fairly straight forward. There are three other buttons to worry about, 'A' 'B' and 'C', or to some players, light medium and heavy. Some attacks can only be pulled off with one particular button whereas others can be augmented and given a little extra power depending on what button is used. Using a special with the A button might make it come out faster but deal less damage, whereas an attack using C might deal more damage but take longer to activate. Going in with a stronger swipe every time might seem like a faster way to get through a match, but expect to see a skilled player whittle you down with faster attacks,
Aquapazza: Aquaplus Dream Match (PS3) Review

,