Continuing what I said about items, WayForward is one of those teams that likes to pack their games with plenty of usable items even if many of them are redundant or somewhat useless. Even in the first 25 floors of the dungeon, I've already encountered more than a dozen different food items, all of which restore exactly one heart each. On the other hand, there are a plethora of secondary weapons to wield ranging from grenade-like eggs that come twelve to a stack to cannons that launch kittens and even ice cream cones that double as whips. These weapons, while most of them have very limited number of uses, break up the monotony of basic attacks.
Along your explorations, you'll naturally acquire arbitrary piles of Treasure scattered around the dungeon floors. Bringing these back up to the surface world will allow you to purchase upgrades for your characters or various boons and weaponry to venture forth with. Any unused treasure will be donated to the Princess of Ooo in a sort of 'Candy Tax'. With many of the upgrades locked away behind high costs of hundreds of Treasures, many of these enhancements are locked away until the later levels.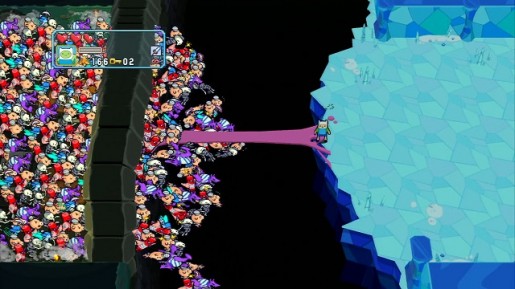 Once every ten levels into the depths of EtDBIDK!, you're greeted face to face with a boss that helps to break away from the monotony of dungeon crawling. Some encounters are simple smash-and-don't-get-smashed-back affairs ala typical boss fights but every once in a while, there are encounters that truly shine. Come level 20, there's a prison break that the main heroes are trying to escape from. Stampeding inmates chase the players down while they try to evade various blockades and obstacles while similarly trying to block off the inmates' advances. This running section goes on for a few minutes before the climax but already it's one of the more memorable moments to the game. Pretty much anything that isn't just running blindly about the dungeons is enjoyable in EDTBIDK!
Adventure Time: Explore the Dungeon Because I DON'T KNOW! is a strange little tie-in to the show, not just because of the type of game it is, but why it chose that style. The target demographic for Adventure Time is largely too young to remember the glory days of playing in the arcades yet the players that enjoy those retro games certainly could be fans of the show. At its heart, EtDBIDK! is simply just another under-ambitious Gauntlet clone, only with cameos from characters like Lumpy Space Princess. This is one game that I could only recommend to hardcore fans of the show, and even then it's a stretch trying to find ones that could enjoy the repetitive nature.
[Editor's Note: Adventure Time: Explore the Dungeon Because I DON'T KNOW! was reviewed on the PS3 platform. The game was provided to us by the publisher for review purposes.]
Adventure Time: Explore The Dungeon Because I DON'T KNOW! Review (PS3)

,