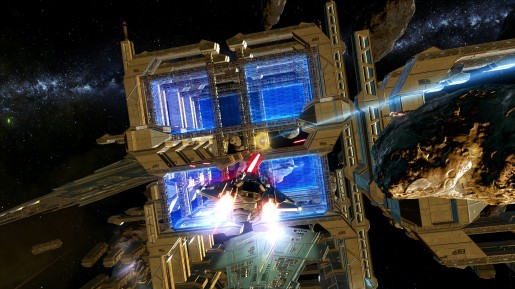 Bioware and EA announced today the next digital expansion coming to SWTOR, Star Wars: The Old Republic, called Galactic Starfighter.
For quite some time, many fans of the hit MMO have been asking Bioware to further take the PvP into space in the form of dogfights. Today, Bioware officially confirmed that a 12v12 PvP dogfight is coming in the new digital expansion that is set to release later this year. One of the key features of the new expansion is the ability to customize your starfighter, master a variety of ship roles, earn ground game rewards, and multiple battle zones where players can travel through different space locations!
Those who have been a subscriber will get a chance to play the expansion two months before it goes officially free on February 2014. Players who remain a subscriber by November 1 will be granted early access to the content on December 3rd. Those who have a preferred status will have to wait until January 14th for their turn while free-to-play players can enjoy the expansion on February 4th, which is the official public release of the game.
So, will there be a charge? Not really! It seems that Bioware is no longer charging for their digital expansions though, expect passes to be available on the Cartel Market to those who are free-to-play and Preferred players. As long as you remain a subscriber, you are entitled to get everything free of charge!
SUBSCRIBER EARLY ACCESS
BEGINS: DECEMBER 3, 2013

Subscriber Early Access Rewards
(December 3, 2013 – January 13, 2014)

Early Access Starting December 3
Exclusive Gunship "Daring" Paint Jobs with Early Gunship Role Unlock Only available to Subscribers who were also Subscribers on November 1, 2013
Strike Fighter "Valiant" Paint Jobs
Scout "Valiant" Paint Jobs
Imperial Battle Ace and Republic Squadron Commander Pilot Suits
In-Game Titles: "First Galactic Starfighter" and "Test Pilot"
Maximum leveling and progression
PREFERRED EARLY ACCESS
BEGINS: JANUARY 14, 2014

Preferred Status Early Access Rewards
(January 14, 2014 – February 3, 2014)

Early Access Starting January 14
Imperial Battle Ace Pilot Suit
Republic Squadron Commander Pilot Suit
In-Game Title: "Test Pilot"
Also available to Subscribers during this period.
FREE-TO-PLAY ACCESS
BEGINS: FEBRUARY 4, 2014

Free-to-Play Access Rewards
(February 4, 2014 – Ongoing)

Imperial Battle Ace Pilot Suit
Republic Squadron Commander Pilot Suit
Available to all players with a SWTOR account during this period.
For more information, check out the Official SWTOR Galactic Starfighter page.