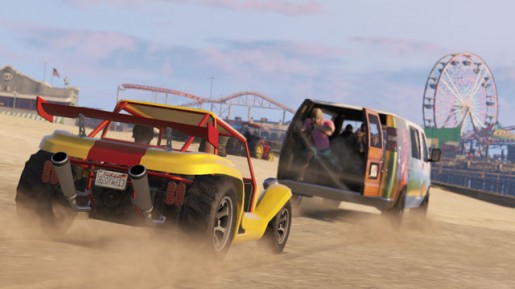 Rockstar Games has made it clear they plan on updating the new Grand Theft Auto Online a lot in the future to further enhance the experience. Now they have revealed the first content add-on for the game that will be coming very soon.
According to the Rockstar Newswire on their official website, the first content add-on for Grand Theft Auto Online will be titled the Beach Bum pack. The main reason for the name of this pack is due to the addition of brand new beach-themed vehicles and a number of different jobs that will take you across the beaches of Los Santos and Blaine County. These jobs include: Gang Attacks, Survivals, Last Team Standings, Parachutes, Deathmatches and Races.
The update will also feature new weapons for you to have. Both the vehicles and weapons will be able to be used online and in the game's story mode according to Rockstar. The last piece of the update will give you some new customization options for your character in Grand Theft Auto Online. Look forward to news on an official release date for the Beach Bum update in the coming weeks.
The news post also mentions the upcoming Content Creator, that will also be free. This will allow you to create your own Deathmatch and Race jobs.