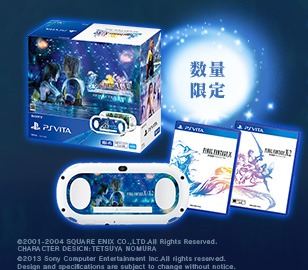 Now that Square Enix has finally confirmed the release date for the much awaited Final Fantasy X/X-2 HD on the PlayStation Vita, a bundle for the handheld has also been announced today.
Final Fantasy X/X-2 HD for the PlayStation Vita will be getting a bundle called "Resolution Box" that includes the newly released PS Vita Slim 2000, USB Charger, Power Cord and the copies of Final Fantasy X HD and Final Fantasy X-2 HD.
Final Fantasy X/X-2 HD will be available in Japan this December 26th for both the PS3 and PS Vita.