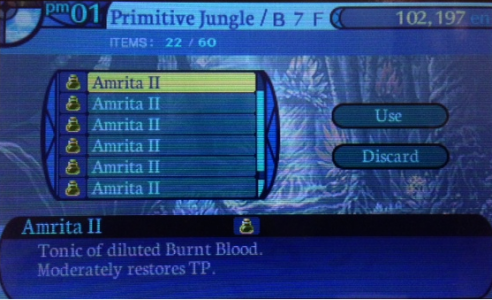 After our review of Etrian Odyssey Untold: The Millenium Girl, we uncovered a tasty little morsel that can help give venturing parties a bit of a boost into the depths of Yggdrasil.
By using this simple trick to duplicate items, you can access a plethora of healing items that can be invaluable in later stages of the stratums. A few popular items to keep in mind are Amrita (TP restoration), Soma (party HP restoration), and Nectar (revival). For those looking for an easy source of money, we recommend Formaldehyde as a single unit sells for 1,200 en at Shilleka's storefront. Only items that are usable in combat can be duplicated, so this method will not work on monster materials or equipment.
To duplicate items at your own discretion, follow these simple steps. Please note that this method will not work if you attempt it with party member #5 as selecting their action ends the party's turn. Also, please do not attempt to open the item menu again until after combat is over as this tends to negate any progress made with duplication.
#1, Select a party member that has their Boost Gauge filled.

#2, Open the item menu and select the item you wish to duplicate.

#3, At the second party member, hit B to return command back to the previous party member.

#4, Select Boost from the first party member (the one that used an item).

#5, Press B to toggle Boost off.

#6, Repeat Steps 4 and 5 until you receive the desired amount of items.

#7, Finish the battle as normal.
If you duplicate items and exceed your 60-unit capacity, during the victory screen you will presented with the usual screen showcasing your spoils and will have to trash items down until you're at 60/60.
[Editor's note: We discovered this glitch during experimentation after our review of Etrian Odyssey Untold: The Millenium Girl was completed. This glitch did not affect our score.]