If there's one IP that's had its fair share of poor video game adaptations, it's definitely Teenage Mutant Ninja Turtles. Given the series' memorable arcade entries, especially Turtles in Time, it has been heartbreaking for fans to have their excitement and hope crushed with each new, disappointing entry. Red Fly hopes to break the cycle and renew our faith in the franchise with Teenage Mutant Ninja Turtles: Out of the Shadows. The question is, can they accomplish this demanding task and exceed expectations?
This is usually the part of the intro where we'd say, "Let's find out what's HOT and what's NOT… ", but I won't waste your time today. You no doubt see that abysmal score floating just above these paragraphs, so you have an idea of where this review is going. Spoiler Alert: This game is bad.
HOT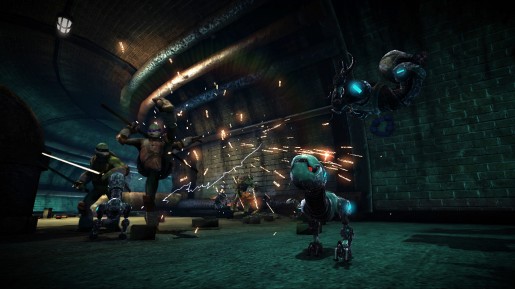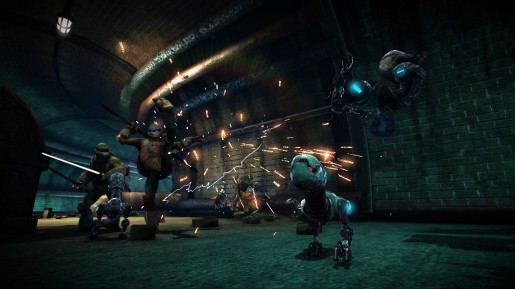 Surprisingly Detailed
Teenage Mutant Ninja Turtles: Out of the Shadows doesn't do much right — I know, it's shocking to hear that another TMNT game didn't turn out so well — but at least the developers spent time modeling the Ninja Turtles with distinct characteristics and general detail. Raphael is the bulkiest of the bunch and acts as the muscle. His confrontational and aggressive attitude only further back his "bad boy" disposition. Mikey is still wild, silly and completely infatuated with all things pizza. Leonardo channels his strong leadership skills and manages not to kill humans despite using two sharp, lethal katanas. And then there's the staff-wielding Donatello, who does machines.
The individual character models are strikingly detailed and varied, with each one sporting different facial animations that best fit their personalities. Furthermore, their fight styles are distinctly different, with Raphael acting as a slow tank that packs a punch and Mikey fighting with a more acrobatic and speedy approach. When in the heat of battle, the changes in combat are noticeable as you flip between the four turtles during solo play, especially if you've invested in the extensive upgrade options. Even the green gang's one-liners, although repeated far too often, are fitting. It's almost unusual that the turtles look this good because it gives off the illusion of high production values, something that the rest of the game lacks.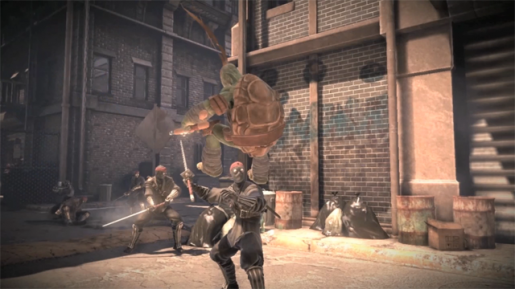 Revolves Around Cooperative Play
TMNT: Out of the Shadows knows that its arcade predecessors had one great component: 4-player cooperative play. Red Fly has implemented the same feature into this game, allowing you and three friends to don one of the four masks and beat up Foot Clan members as much as you'd like. There are those few moments where the game comes together and you feel like a great TMNT experience was almost within reach. Having all four turtles slam their shells into one enemy with a team attack is one of these rewarding moments. After spending a short amount of time with the game's single player AI, you'll be dying to bring a friend a long to boost the "fun factor", of what little there is to be had.
NOT
Broken Multiplayer
I just said that the game doesn't completely fall apart when another friend (or three) come along for the ride. The main issue is that multiplayer is completely broken. For our review, we played the Steam version of TMNT: OotS. We were met with two common issues. First, trying to jump into a quick match resulted in an everlasting "Connecting…" message and required a full exit of the program. Second, inviting friends and joining private games does not work at all. This is a game which is built around the idea of co-op, a feature that is near impossible to access without in-depth workarounds (typically involving the use of other programs), which is how we were even able to test out that aspect of the game in the first place. Many will agree that it is unacceptable to release a game that is so obviously broken and missing key features.
Teenage Mutant Ninja Turtles: Out of the Shadows Review

,