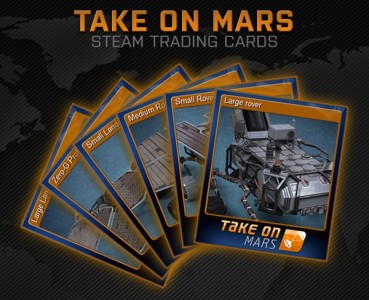 Steam Trading Cards are popping up for more and more games, with Take On Mars just the latest to join the party.As ever, if you want to collect the trading cards then just play the game and you'll receive a few random drops, though to complete the set and craft badges you'll need to buy or trade for the rest.
More interestingly October 3rd will see another major update for the game, dubbed the 'Deimos content pack'. For those who don't know, Deimos is Mars' moon, and this pack will include it as a location to explore, as well as adding a Zero-G Probe with to use in the extremely low gravity environment. In addition to that extra content the update will also bring new features, specifically Dynamic Mission Generation, a Dynamic Weather System and a reworked Part Failure System.
With this update the game will also be increasing in price, from the current €9.99 / $12.99 / £8.99 up to €13.99 / $17.99 / £11.99, so if you're interested in the game but haven't bought it yet it may be worth buying it before the price rise, from either Steam or Bohemia Interactive's Store.