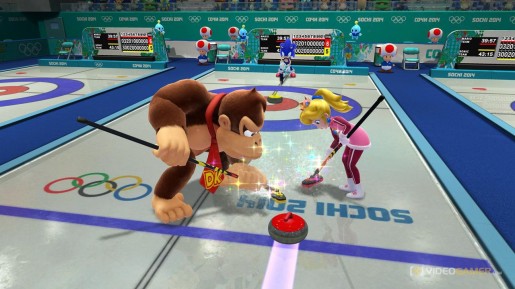 The Mario & Sonic at the Olympic Games series first debuted on the Wii in 2007 with a game to go along with the following year's Beijing Summer Olympics. Since then, we have had a Mario & Sonic game to go along with each Olympics, both summer and winter. With the upcoming Sochi Winter Olympics, there wasn't much surprised when Mario & Sonic at the Sochi 2014 Olympic Winter Games was announced earlier in the year.
Now the game has officially been dated, at least for digital download, on November 8, according to a notification on the Wii U console. The notification says that the game will be available at midnight on this date. What we don't know is whether or not the retail release will be coming out on the same day, or if there is a staggered difference between the digital release and retail release, like we saw recently with The Legend of Zelda: The Wind Waker HD. November 8 is a Friday like when Wind Waker HD's digital release was, so it very well may be the case.
Mario & Sonic at the Sochi 2014 Olympic Winter Games will feature 16 different Winter Olympic events, such as skiing, bobsledding, and curling. Some events will use the GamePad while others will use the Wii MotionPlus. Some will even use both. The game will be available for digital download on November 8 for the Nintendo Wii U.