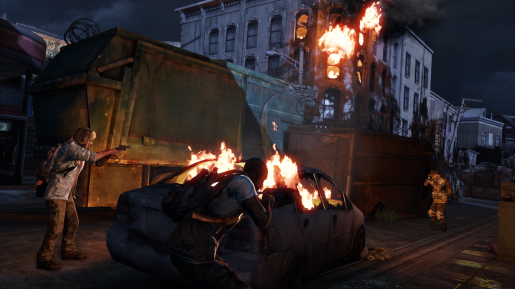 The Last of Us has been one of the most talked about games of 2013, and ever since its release, gamers have been awaiting the DLC that they will be getting with the $20 Season Pass. New DLC announcements were hinted at earlier in the week, and now we have more detailed plans of the DLC that Season Pass owners will be getting, courtesy of the PlayStation Blog.
The first Season Pass DLC will be arriving October 15, but sadly it is not the story DLC, but instead a map pack. The Abandoned Territories Map Pack will give you access to four new areas: Suburbs, Bus Depot, Hometown, and Bookstore.
Weather the opposing Faction and the random, dynamic dust storm on the Suburbs map. Explore a layered map of an overgrown urban environment with wild giraffes in the background in the Bus Depot map. Stalk around in a dark, eerie, moonlit, environment – the perfect setting for some serious stealth – in the Hometown map. Bookstore features a stacked, bi-level layout adding a highly unique dose of vertical gameplay.
There was not a lot of information given about the story DLC, but they did say that they had just finished casting a new character and would be starting performance capture next week. This second part of the Season Pass is expected to be released in December/January. The last part of the Season Pass will be available in early 2014, but it is completely multiplayer focused. No details were given on it at this time.
As a special gift to Season Pass owners, Naughty Dog is also throwing in over 60 head items free, that will be available for download individually otherwise. Check out some images of the Abandoned Territories Map Pack below: