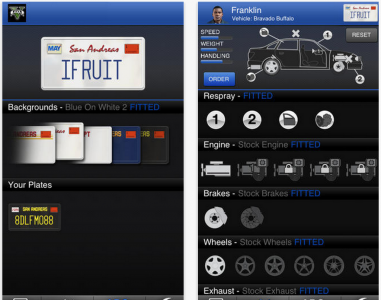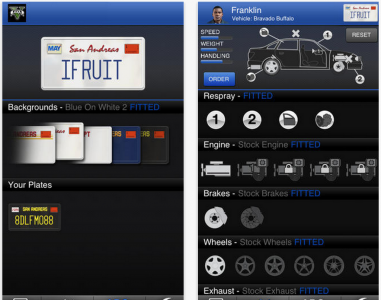 Coming just a day before the release of Grand Theft Auto 5, Rockstar Games has released a companion app for iOS known as iFruit. The app is a free download for iOS devices.
The app iFruit lets you go about two different tasks that can affect the main campaign in the console release Grand Theft Auto 5. One of these is known as Chop the Dog, where you can take care of the pet of one of the the game's main protagonists Franklin. By taking care of his dog Chop, he will help Franklin in the console game by finding hidden items while you take him on walks.
The other purpose of the app is for something known as Los Santos Customs, which allows you to create custom cars and license plates that you can then use in the main game for Xbox 360 or Playstation 3. Of course this is just a change in looks rather than getting you items like Chop the Dog, but it makes the game more customizable and designed to your specifications as you will be driving around a lot of the game.
The companion app iFruit is available now free for iOS devices while Grand Theft Auto 5 will be available for Xbox 360 and Playstation 3 tomorrow, September 17. If you are picking up the game tomorrow and want to get a jump on the activities, go ahead and download iFruit now.