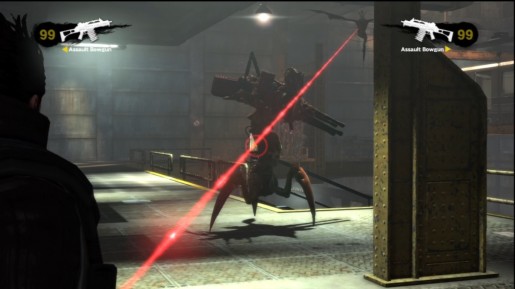 When it comes to niche games very few people play them and by extension every task is significantly harder. Thankfully NeverDead is more annoying than difficulty, though you can expect a lot of stress playing. However with this guide you can reduce some of that, if only slightly. Pay close attention to the stage exclusive task too. Missing these will require another go at that stage.
Bronze
De-Cyphered
Take a trip down memory lane…
During the opening credits you fight Sangria. Simply play through this for the trophy.
A pain in the ass!
Defeat the Sword Pig.
The sword pig is a weird boss, but fairly simple once you know how to deal with him. The basic gist is to keep HUGE amounts of distance and wait till he lunges at you. He should get trapped in the wall, which is your cue to chop off his front legs. Try to avoid his back legs if you can. They tend to break you apart, which is simply annoying.
Four-to-one Odds
Defeat Quad Jaw.
This boss can be a tad confusing, but is very simple if you know how to fight him. For the first part, stand still till he attacks. Every now and then he will get trapped for a short while. This if when you chop the head off. After doing this for the three heads he will change to a new form.
During his final form run to the area on fire and equip flame bullets. After this remove your arm, but wait till he opens his mouth. At this point throw your arm in then open fire. This should open a small patch of yellow. Shoot this part on the outside to quickly kill him.
Serve and Protect
Save Nikki.
Story related, can't be missed.
Tower'n Inferno
Take down the water tower.
Story related, can't be missed.
Sangria, on ice
Defeat Sangria, duke of hell.
Sangria is the flamboyant guy you see at the start of the game. This fight is exactly the same as your original encounter, but you can damage him. There is no fancy method to win, though running through the blue circle then slashing him does critical damage.
Womb with a view
Defeat Sullivan.
Sullivan is he most simple boss in the game. To defeat him simply break the puss pod things and then open fire Sullivan. There is nothing more to this fight.
Tumble Dried
Get caught up in the whirlwind.
Story related, can't be missed.
There can be only one!
Defeat your nemesis.
This is one of the more annoying fights. To win you basically need to open fire with the assault rifle. HOWEVER you must constantly damage him and remove limbs. Taking too long will result in him regenerating. There is no real secret past using strong guns like the assault rifle.
Eye for an eye
Defeat Astaroth, king of hell.
This fight is simply a bitch to win. Make sure you have increased jump and kill every enemy you see. If you're having problems he has a laser beam, which can easily kill most enemies. After the enemies are dispatched you're able to attack him. Shoot him through the blue circles till one appears between his snake arms. Run through it with the sword then slice an arm off. This is true for both forms and is the quickest way to win.
Funky Dunker
Put head through all basketball hoops.
Every stage has one hoop and is usually in plain sight. You can find the location of them all below.
Stage 1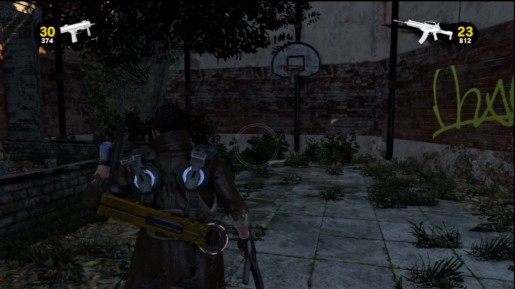 Stage 2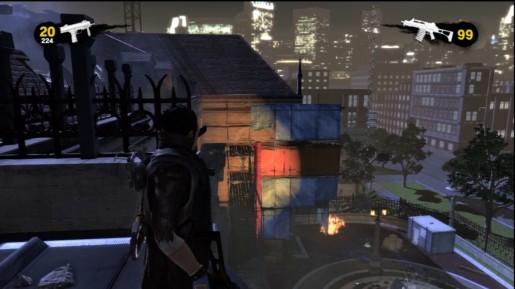 Stage 3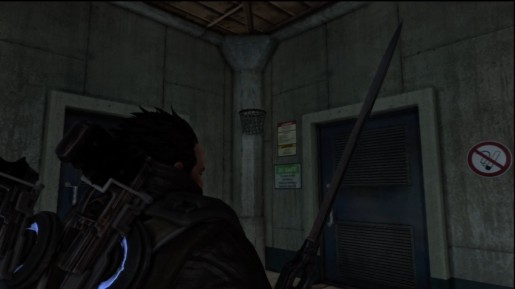 Stage 4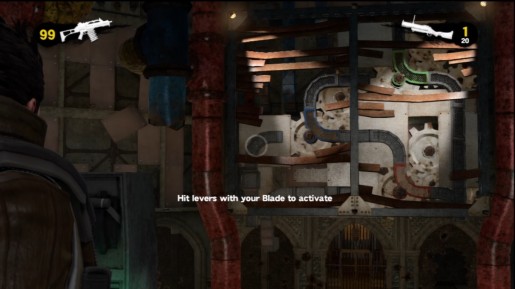 Stage 5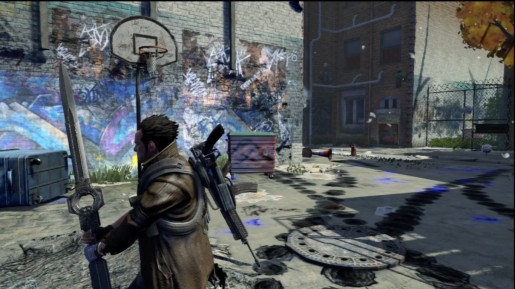 Stage 6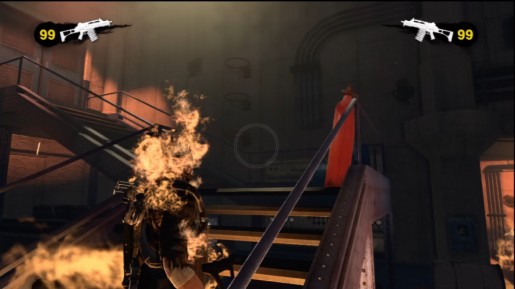 Stage 7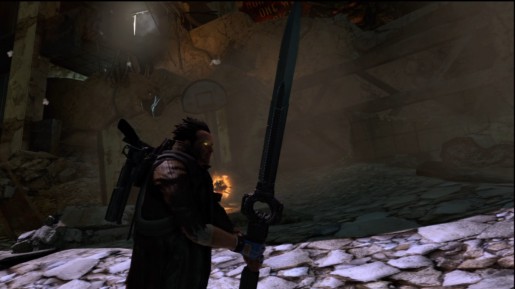 Stage 8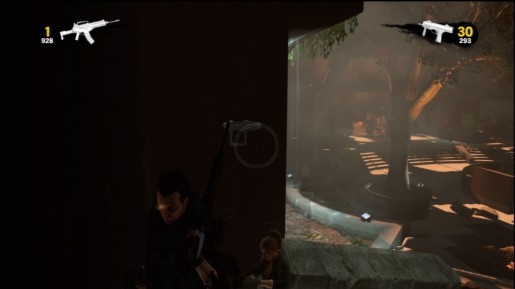 Explosive Personality
Blow up 35 enemies in the Asylum using barrels.
On the Asylum you will see red canisters. These should remind you of just about every other shooter out there. Keep shooting these till they blow up ideally taking out enemies. Remember that you can blow yourself up with limited risk.
Antiquarian
Destroy less than 25% of the museum exhibits.
This is easily one of the most annoying trophies in NeverDead. Basically you must make sure that the enemy is focused on you, so equip seduction. Next you must remain in a "safe" location. By this I mean a place where nothing/limited things can be broken. Finally all enemies must quickly be dispatched. This will get harder as you get deeper, but you can always reload a checkpoint if you think you're doing bad.
Mind the Gap
Lure Panda Bear in front of a train.
Around halfways through stage 3, you will encounter an enemy with a health bar similar to a boss. This thing is known as a "Panda Bear". During the fight the floor will give out and you'll fall below. Here you will see trains going by. Stand there till a train randomly kills it. There will be a short cutscene and it will instantly die.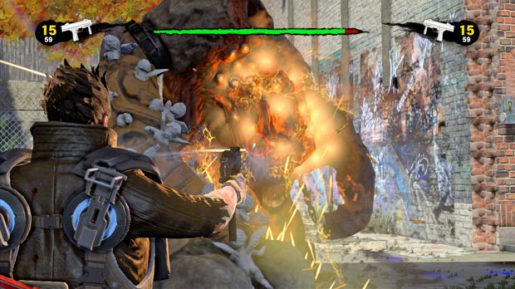 Let There be Light
Light all the sewer barrels.
This is actually extremely easy. Simply keep count out of how many you have. The totals are as follows, 4, 4, 5, 4, 12, and 4.
Don't Stop, Look or Listen
Dodge the traffic on the bridge.
At the start of stage five, you will see a bunch of cars driving past you. They follow a predictable order so simply memory and dodge them. Sooner or later a train will prevent more from falling. Enter the train for the trophy to pop.
Evacuation Plan
Get all the civilians to the chopper.
On stage six you will come across two people fighting off demons. Equip seduction and kill every enemy. This should unlock the trophy with minimal hassle.
Premature Evacuation
You win some, you lose some.
This is actually part of the story and can't be missed.
Out of the Frying Pan
Lure Panda Beat into lava.
Shortly after the start of stage six two panda bears will attack you. Run behind them to the absolute edge and wait. Sooner or later they will rush you ideally going over the edge too. This will instantly kill them, but won't kill you.
Boulder Dodge
Dodge the Boulders.
On the final stage there will be a staircase in a building. From this point forward avoid every rock you see. This can easily be accomplished by playing it safe.
Curiosity Killed the Cat
Explore all of Arcadia's Apartment.
Okay this trophy is extremely misleading. Basically there are three instances in story where you go there and each instance has unique red wing/heart/xp items. In other words you must do everything three times. The full list of tasks can be found below.
Sink
Shower
Toilet
Bed
Dresser
Mirror to the left of the dresser
Washing Machine
Refrigerator
Bed
Under the bed
Vent under the beds rug (see picture below)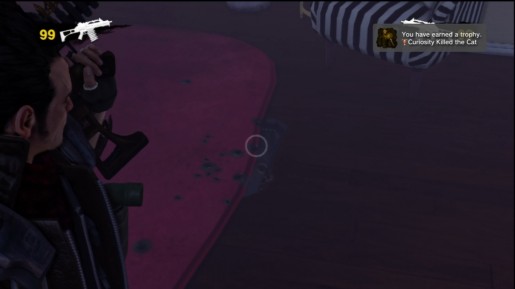 Behind the couch
Chair
Mirror above the fireplace
Between Arcadia and Nikki
The Door
Shock and Awe
Kill an enemy with electricity.
Equip electricity bullets and kill an enemy.
BryceBQ
Kill an enemy with Fire.
Honestly, you will accidently do it before you know it.
Swiss Army Bryce
Kill an enemy with every weapon.
Your weapons include the assault rifle, grenade launcher, pistol, sword, shotgun, and SMG. This should happen by accident or during an online match.
Insurance Fraud
Destroy 100,000 worth of objects.
This will happen over time.
Hop, Skip and Jump
Hop, Roll and Jump…
This will happen naturally without even trying.
Onslaughter
Complete an Arena Onslaught Challenge.
Finish an arena onslaught challenge.
Runner
Complete an Onslaught Challenge.
Finish an onslaught challenge.
Savior
Complete a Search and Rescue Challenge.
Play smart and keep the survivor safe. If they die, you fail.
Frail Friend
Win a Fragile Alliance Challenge.
These are by far the worst and might be easier if you have a friend assist you. Additionally exploding limbs help a lot on this stage.
Easter Bunny
Win an Egg Hunt Challenge.
Equip every sprint and collect every egg.
Silver
Ever Dead
Complete the game on easy difficulty.
See "Never Dead".
Rarely Dead
Complete the game on normal difficulty.
See "Never Dead".
Endangered Species
Kill 8 Panda Bears.
Each story cycle has four bears, but you can repeat chapter seven for quick panda kills.
Criminal Damages
Destroy $1,000,000 worth of objects.
Constantly replay the museum for tons of breakable objectives.
You and whose army?
Shoot 50 enemies with dismembered limbs.
After you beat the game you get a rifle with unlimited ammo. Equip this and throw your arm at enemies. Open fire with this arm till you're certain you hit most/all the enemies. Rinse and repeat till the trophy dings.
Group Hug
Kill 5 enemies with a single limb explosion.
Wait till several dogs are near each other with low life and throw your arm at them. This should result in most of them going after the arm. Once you're certain that five will die, blow up your arm. This should result in the trophy. If you fail reload the area or try again at another point.
Level Up
Purchase 50% of the abilities.
This is roughly 35 abilities and will happen over time.
Gold
Never Dead
Complete the game on hardcore difficulty.
NeverDead is a unique title. Basically, difficulty is just a loose term for how stressful you want your cycle to be. Since it's almost impossible to die; almost no skill is required to complete the game. However I suggest playing on hardcore so you only need one cycle.
The Great Collector
Find all major collectables.
Every stage has ten items to find and they're hidden one of three ways.
Down a route you don't need to take.
In a corner.
"Hidden" in a fairly random thing.
If you pay attention then you shouldn't miss many of them. If you're unsure what a collectable looks like, check out the image below.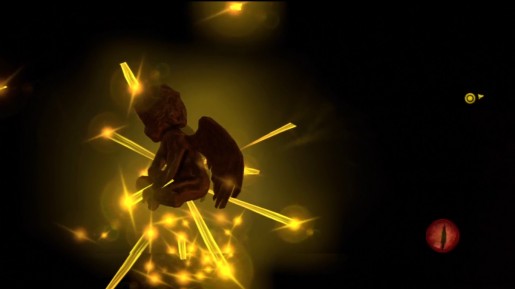 Big Spender
Purchase all abilities.
Okay simply put this trophy is pure evil. The final skill costs roughly five times more than all other skills combined. In other words it is EXTREMELY tedious. The quickest known method is to get Panda Bears to fall into the lava with all three XP items on and then reload last checkpoint.
Completist
Unlock all Prestige Badges.
A prestige badge is awarded when you finish a level online. There is two for each stage divided by difficulty. You must finish all 13 levels on both Normal and Hardcore for this trophy. Beyond this there is no real trick past learning what to do. Skills stack so that might assist you. Additionally the game doesn't scale so it's easier with four people than two. Finally keep in mind that you must WIN the event. This means you must get all the collectables, capture every point, kill every enemy, save every hostage (no one can die) and do this before the time limit.
Platinum
I'll bite your legs off!
Get all trophies.
Simply get every trophy.