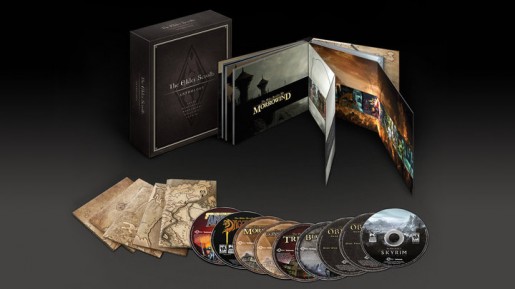 We know everyone is excited for the release of The Elder Scrolls Online but sadly, it will not launch until next year which is pretty disappointing to many. Gamers who are getting impatient, there's one way to keep things busy in your life and that's to play all of the Elder Scrolls games starting with the first one. To make it possible, Bethesda is releasing the Elder Scrolls Anthology next month.
The Elder Scrolls Anthology is a collection of all The Elder Scrolls games where players can play Arena, Daggerfall, Morrowind, Oblivion, and Skyrim. Since not all of the The Elder Scrolls fans managed to play the first two classic games, now is the best time get them by making sure you pre-order the game. Starting today, you can now pre-order the Elder Scroll Anthology on PC at your participating retail stores like Gamestop.
The Elder Scrolls Anthology will be available in stores starting September 10th exclusively on the PC. Fans who are looking for an awesome box collection of the Elder Scrolls games, this is the one to pick up next month.