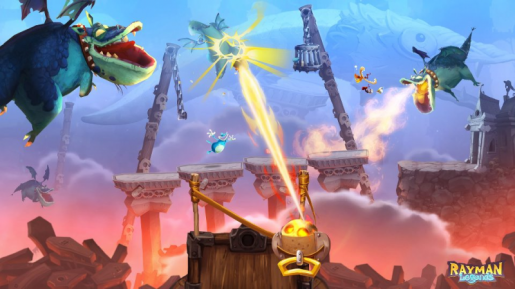 Small Extra Content
Rayman Legends has a few other little extras to entertain gamers between the abundance of levels. Kung Foot is a simple yet fun Football (or Soccer to those in America) game where Rayman and friends take to a two dimensional pitch. For fans of flash titles, it plays extremely similar to the internet classic Slime Soccer. The matches don't last long but are hectic and a great bonus feature to play with friends.
Another element taking inspiration from other successful titles is the Creatures section. Set up much like the Zen Garden feature on Plants vs. Zombies creatures once unlocked via lucky cards appear in the Creature section. They are displayed on pedestals and drop Lums for Rayman to collect each day.
NOTs
Deprived Solo Players
Rayman of old was a singleplayer experience and while it is still there at heart, multiplayer is by far the best way to play Rayman Legends. Even Kung Foot is only properly enjoyable with friends. You aren't even able to play against the computer a second player must join for you to play a match. The rest of the title isn't this dependent on extra players but there was just an additional element of fun as a result of multiplayer in comparison to playing on your own.
Verdict
Trying to find fault with Rayman Legends is an almost fruitless venture. It brings the Rayman gameplay that is known and loved, adds new gameplay elements and the result is thoroughly entertaining. Be it with friends or on your own, the game is fun and that is what a Rayman title should be; offering enough difficulty whilst keeping that family friendly fun factor. If you are looking for a great platformer with a great unique style, Rayman Legends is recommended for you.
[Editor's Note: Rayman Legends was reviewed on the PlayStation 3. The game was provided to us by the publisher for review purposes.]
Rayman Legends Review

,