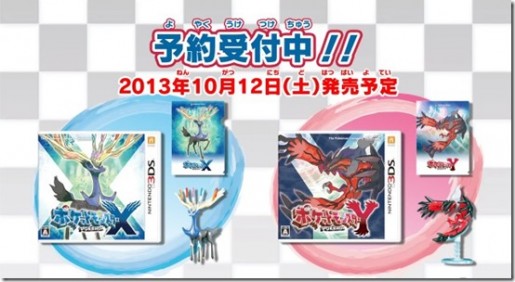 So, if you are in Japan and are pretty excited for Pokemon X and Pokemon Y, you can pre-order the game right now and receive some very cool bonuses.
Pokemon fans who will pre-order any of the two games at the Pokemon Center will receive the following: an exclusive clear file folders which inclludes an image of Xernaeas/Yveltal, and a mini-Xerneas/Yveltal figurine, depending on which version you pick. Those who pick up both versions (Pokemon X and Pokemon Y) will get an exlcusive "World Art" book where it will be filled with plenty of exclusive features and artwork including a cover image that was designed by Game Freak. In addition, it will also come with a CD featuring three tracks from both games.
Unfortunately, only the Pokemon Centers throughout Japan are offering this pre-order bonuses. Let's hope that Nintendo and Pokemon Company here in North America will have something like this as a pre-order bonuses.
Pokemon X and Pokemon Y is scheduled for release this October worldwide exclusively on Nintendo 3DS.