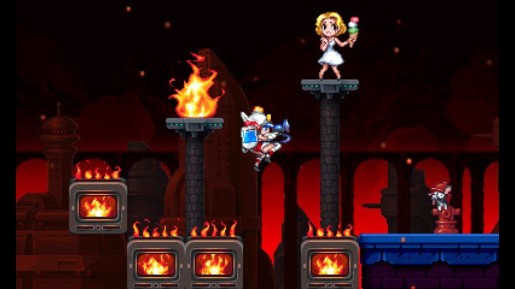 The original Mighty Switch Force was released on the Nintendo 3DS eShop in December 2011, which was followed by an HD release of the game on the Wii U eShop nearly a year later in November 2012. Half a year later found a sequel to the original game, known as Mighty Switch Force 2, being released on the Nintendo 3DS eShop as well. As a result of the pattern before, most figured it would eventually be updated and released for the Wii U eShop as well. Now we know that is going to happen thanks to a tweet by WayForward Technologies' Creative Director, Matt Bozon.
Mighty Switch Force 2 for the 3DS received good reviews, but was said to be a little too similar to its predecessor. Regardless, the series features fun and unique puzzles for you to explore and solve. The remake of the original saw a few additions beyond just the graphical upgrade, so it will be interesting to see what will be added to the Wii U release of Mighty Switch Force 2.
Bozon said that Mighty Switch Force 2 is estimated to arrive this October for the Wii U eShop. Release date windows on the Nintendo eShop aren't always the most accurate, so make sure to keep an eye out for any further information on a specific release date.