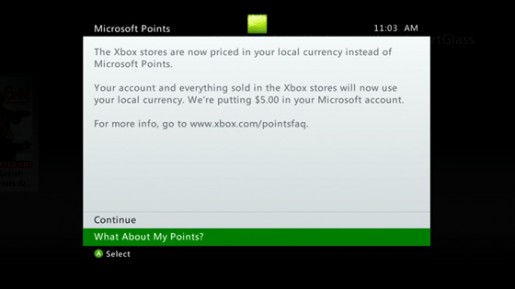 In a move that many have been pushing for over the years, Microsoft Points are finally no more with the latest Xbox 360 Update that is being gradually rolled out today. The points are now being replaced by actual local currency, depending on where you are located.
According to Major Nelson, the next time you go to purchase something or redeem a Microsoft Points card, you will be given local currency equal to or greater than what you should have in Microsoft Points. To go along with this, he said that they will still be accepting prepaid Microsoft Points cards and codes until further notice.
For those in the United States, the conversion rate between Microsoft Points and local currency is 80 Microsoft Points equaling one dollars. It appears that the conversion will be rounded up to the nearest quarter dollar as well.
If you do not receive a prompt to update your console at launch, just check again later as the update is being gradually rolled out today and your console may not have received it yet.