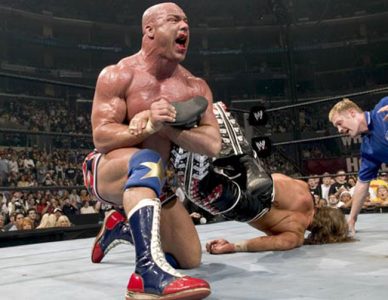 Is WWE teasing that Kurt Angle will be in WWE 2K14? Why else would they upload his entrance video?
The official WWE Youtube channel uploaded the entrance videos for Hulk Hogan and Kurt Angle. Both men are a part of TNA now, although WWE/2K Games can still use their likenesses.
Since WWE 2K14 will have a "WrestleMania Mode" it's only fitting to put Kurt Angle in the game. He had memorable matches against Brock Lesnar, Eddie Guerrero, Shawn Michaels, Randy Orton and Rey Mysterio during his time in the WWE.
We'll just have to find out later tomorrow to find out for sure!
Check out the entrance video below: