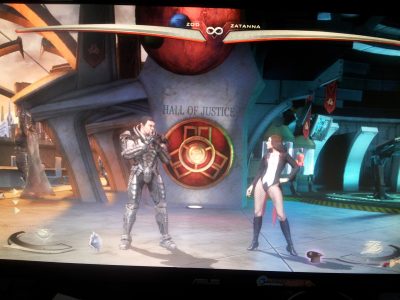 Many were disappointed with the look for Zod when he was released for Injustice: Gods Among Us. His playstyle was very fun, but his look just didn't fit any of his past styles in the comics or movies. At the time, NetherRealm's Ed Boon hinted at the possibility of a skin for Zod based on the recently released Man of Steel film, as we got for Superman. However, through looking through the code released in the most recent patch for Injustice:Gods Among Us alongside the new DLC character Zatanna, someone has discovered code for the Man of Steel Zod skin.
Unlike the Man of Steel Superman skin, this one's face look a lot more like Zod from the movie, so people that have been wanting this should be very happy. Zod retains the exact same moves, voice, intro, win pose, and dialogue, but it still all fits Zod from Man of Steel very well. Though I have to admit I was hoping of the addition of "I was bred to be a warrior, Kal. Trained my entire life to master my senses. Where did you train? ON A FARM?" for when fighting Superman.
It was getting a bit worrisome with the lack of skin packs to accompany Martian Manhunter and Zatanna's release, but Boon has stated that we would be getting more DLC skins in the future. If Man of Steel Superman is any indication, Zod will likely be released as a standalone skin rather than in a pack.
Injustice: Gods Among Us is available for Playstation 3, Xbox 360, and Wii U. Video of the Man of Steel Zod skin in action can be found in the video below: