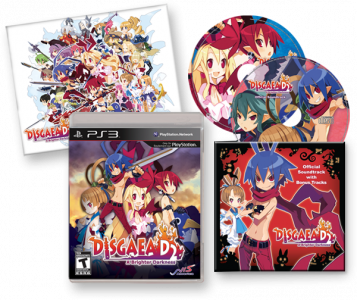 NIS America revealed today that when Disgaea D2: A Brighter Darkness launches on the PS3 this October in North America, fans will be able to get exclusive bonuses for a limited time.
The following bonuses will be limited to all first-run copies only: a two-disc official soundtrack, a graphic print, a costume DLC pack for Laharl, Etna and Flone which will be available for download on the PlayStation Network for the first 30 days from the launch of the game. Since we know how Disgaea games can get pretty rare and are hard to find, we know that purchasing it on launch day will be a good idea since majority of stores will only carry a few copies.
Disgaea D2: A Brighter Darkness will be available on October 8th in North America and September 27th in Europe. As always, check back with us near the release date for our review of the game.