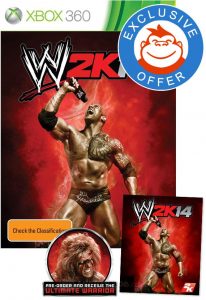 New Zealand retailer (Mighty Ape) has an exclusive pre-order bonus for WWE 2K14.
As well as receiving The Ultimate Warrior as a playable character, you will also get a huge A1 sized WWE 2K14 poster. If you want to have The Rock put up on your bedroom wall, this poster will be big enough for you to show it off.
The WWE 2K14 poster is a Mighty Ape exclusive. You can order the game on the PS3 and Xbox 360 in New Zealand and also on the PS3 and Xbox 360 in Australia.