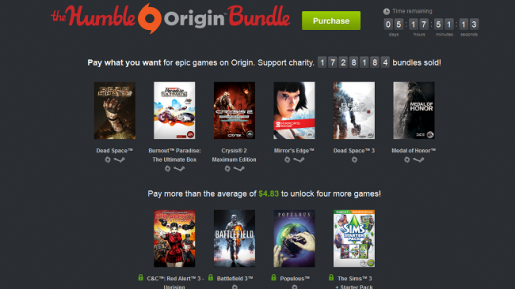 EA's Humble Origin Bundle earned a whopping $8.7 million and it's not even finished yet.
There's still three more days to go and the bundle has sold 1,791,762 times. That's around an average of only $4.86 per bundle. Eurogamer predicts it could sell reach $10 million when it's all over by the weekend.
The best part about the bundle is the fact that all (100%) of the money is going to charity. Yes, EA will not be profiting anything from this. Not to mention you pay any price you choose for the bundle…
Here's all the games PC players get in the bundle: Dead Space 3, the original Dead Space, Mirror's Edge, Crysis 2: Maximum Edition, Medal of Honor, and Burnout Paradise: The Ultimate Box.
If you paid over $5 you also get: Battlefield 3, Command & Conquer: Red Alert 3 – Uprising, Populous, and the Sims 3, along with its two expansions in the Starter Pack.