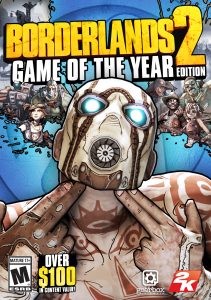 2K and Gearbox have come forward and confirmed the existence of Borderlands 2 Game of the Year Edition. The re-release is coming packed with over $100 worth of content, but fortunately you'll only need to pay $59.99 to experience it all.
Here's what comes with the GOTY edition:
Borderlands 2 Main Game
Captain Scarlett and her Pirate's Booty
Mr. Torgue's Campaign of Carnage
Sir Hammerlock's Big Game Hunt
Tiny Tina's Assault on Dragon Keep
Creature Slaughter Dome
Gaige, the Mechromancer Character Class
Gearbox Gun Pack
Golden Key
Vault Hunter's Relic
Krieg, the Psycho Character Class
Collector's Edition Heads and Skins
Ultimate Vault Hunter Upgrade Pack 1
Borderlands 2 Game of the Year Edition will launch on October 8th in North America and October 11th everywhere else. If you haven't given this wonderful co-op experience a chance yet, there's never been a better time.