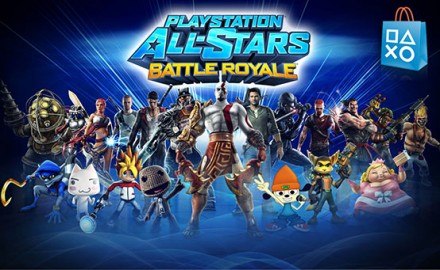 PlayStation All-Stars Battle Royale came out last year, although it wasn't a game that sold a lot of copies. Is there a chance the game will ever get a sequel?
PlayStation All-Stars Battle Royale sold over 1 million copies worldwide since it launched back in November last year. The game was received well by fans and critics at the time, although it sounds like Sony hoped the game would sell even more copies.
The game was released in November and was heavily advertised as one of the PS3's "must-have" games for the 2012 holiday season. 1 million copies is a lot, but it's possible Sony were hoping it would at least sell over 2 million copies worldwide or more.
You could say the 2012 holiday season was pretty weak for Sony and the PS3 when it came to first party titles. The only exclusives out at the time were PlayStation All-Stars Battle Royale, LittleBigPlanet Karting and Wonderbook: Book of Spells. In 2011, Sony released Uncharted 3 during the same season while this year they're releasing the PS4 and Gran Tursimo 6 on PS3…
It's possible that Sony hoped the game would reach the same level of popularity as Nintnedo's Super Smash Bro. games, but I don't think it ever did. Not to mention Sony cut ties with SuperBot Entertainment (the game's developer) and Sony Santa Monica is now responsible for the franchise. However Sony Santa Monica has announced no more DLC is coming for it, but they are still going to support the game.
I'm unsure at this rate if Sony is keen to release a sequel in the near future, unless they are confident a PS4 sequel would gain new fans. I think part of the original game's problems is that Sony had a hard time getting the rights to a lot of characters. Two of the most popular PSOne characters weren't in the game. Those characters being Crash Bandicoot and Spyro the Dragon. Even Lara Croft wasn't in the game either and she was a huge part of making the PSOne popular in the first place. Other characters like Cloud from Final Fantasy VII and Solid Snake may have helped the original game's exposure too if they were in it.
Another issue that could be addressed is that a lot of people saw it as a "rip-off" to Super Smash Bros. If the game had its own unique style of gameplay, I'm sure more people would have played it and took notice of it.
At this rate, I'm sure PlayStation All-Stars Battle Royale 2 is never coming out for the PS3. I would say a PS4 release is likely (if fans demand it), but it won't be out until two or three years from now. For now, fans will only have to enjoy the original game and pray a sequel eventually gets made…