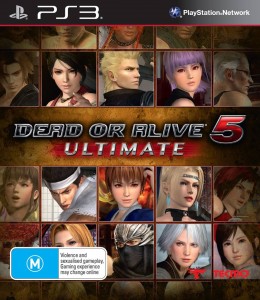 Tecmo Koei has officially revealed the official box art/cover for Dead or Alive 5 Ultimate.
Dead or Alive 5 Ultimate is a re-release of last year's game featuring new stages, new characters, new costumes and new modes. It will be released this September for the PS3 and Xbox 360.
That being said, do you like the cover for the game? A lot of comments on Facebook have criticized the look of it. Many people have said it looks "lazy" and that it's more of a character selection screen more than a cover for a game.
Check out the covers in more detail by clicking the thumbnails below: