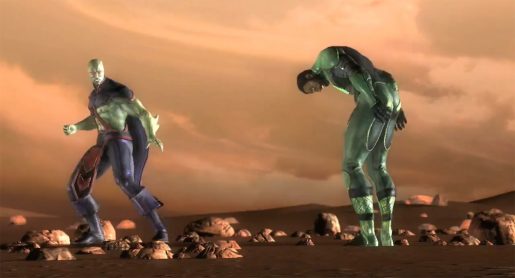 Some were worried that it was never going to come after the leaks of the first round of DLC first came out for Injustice: Gods Among Us, but after many months of NetherRealm's Ed Boon's classic trolling on Twitter, gamers can now play as everyone's favorite martian.
Martian Manhunter brings a slew of new abilities that fit his character perfectly, including stretchy limbs, body phasing, shapeshifting, and others. Martian Manhunter costs $4.99 or 400 Microsoft Points to download and there will be no season pass this time around, even if they do end up doing another four DLC characters, which we have no idea at this time.
We just know that Boon has said that they will at least be more beyond Martian Manhunter. He said the next one is a huge "fan requested" character and the top two, of which he hasn't yet announced winner, in his unofficial poll for who should be DLC was Zatanna and Red Hood. Personally, I'm really hoping for Zatanna, as she's been the DLC I've wanted most alongside Martian Manhunter. With the spacing of announcements and releases, expect something from Boon relatively soon on who that next character will be.
Upon loading Injustice: Gods Among Us, you will be asked to update, which includes the compatibility pack that gives you a free skin of John Stewart for Green Lantern. From there you can purchase Martian Manhunter from the in game store for $4.99 or 400 Microsoft Points. Just be warned that the update is 813 MB (at least for PS3), so make sure to set aside time to download before you play the game today.
Injustice: Gods Among Us is available today for Playstation 3, Xbox 360, and Wii U. However, Martian Manhunter is only available for Playstation 3 and Xbox 360 at this time. A Wii U release has not been announced.