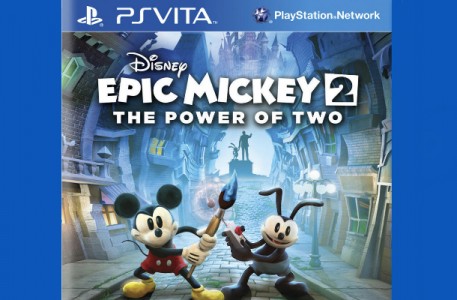 Epic Mickey 2: The Power of Two was released last year and was met with a very icy reception. The first game was a Wii exclusive and was moderately well received. However, the sequel last year failed to ignite interest and sold fewer copies even though it came out on the PS3 and Xbox 360 too. Needless to say, it was a bad game overall.
A few months later and the PS Vita version of Epic Mickey 2 has been released. This portable version of the game adds touch screen controls to make the experience more unique, but is this enough to save it? Is Epic Mickey 2 on PS Vita any different from the console version out last year?
Find out as we take a look at the HOTs and NOTs of Epic Mickey 2 on the PS Vita in our review.
Hot
Classic Disney Presentation
The one thing that is done right in Epic Mickey 2 is the presentation. The hand drawn cutscenes in the game are wonderfully animated and the character design is commendable. You will run into a lot of other classic Disney characters in the game such as Goofy, Daisy and Donald. Although they are in "animatronic" form in this game, they still retain the great voice acting that I remember from the many cartoons and movies they have starred in. Even older Disney characters appear in the game such as various versions of Pete (who was Mickey's arch enemy) and of course Mickey's partner in the game Oswald the Lucky Rabbit. If you are a huge fan of old school Disney cartoons, playing this game will take you back to your childhood as the atmosphere this game creates is true to what Disney should be all about. It's not the modern type of Disney we see today that have branched into other types of characters and genres…
Unique Gameplay
The most unique aspect about Epic Mickey 2 is the core gameplay. It may look like your average platforming game, but there's more to it than meets the eye. This is because Mickey has access to a magical brush that can both draw or erase objects in the game world. For example, if a bridge is broken, Mickey can simply draw it in and the bridge will appear. He can do this by using blue paint that he can collect during the levels. The green paint is called the "thinner" and erases certain objects in the environment. This is helpful if you need to get past rocks or a door that is blocking your way. You can simply "erase" it and a new path is open to you.
Another unique thing about Epic Mickey 2 is that Mickey doesn't knock out or kill any of his enemies. Since this is a kid's game after all, he'll have to use the blue paint to make the enemies "turn good". He does have a spin attack that can make enemies drowsy, but you'll have to paint enemies blue if you want to make them good. Some enemies have armor so you'll have to use the green "thinner" paint to erase it and expose them.
Epic Mickey 2: The Power of Two PS Vita Review

,