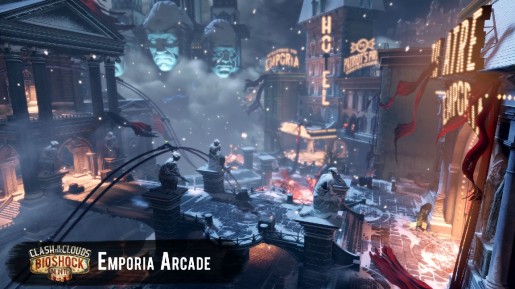 Irrational Games announced today that a new Bioshock Infinite DLC is now available for purchase on the Xbox 360, PlayStation 3, and PC.
The DLC that is available today is called Clash in the Clouds, an action-focused downloadable content pack that presents players with a series of unique challenges and a new combat opportunities. You can get the DLC today for $4.99, or free if you purchased the $20 Season Pass.
Aside from the DLC, Irrational Games also revealed today that there will be two more DLCs coming; Bioshock Infinite: Burial at Sea. According to Irrational, the DLC is a two-part add-on campaign featuring an all-new story for Booker and Elizabeth, set in the underwater city of Rapture before its Fall. Currently, the two-part DLCs are still in-development.
"We are really excited to offer our fans the content that they have been asking for," said Ken Levine, creative director of Irrational Games. "With Clash in the Clouds, people get a pure action experience that takes BioShock Infinite combat to its highest challenge and intensity level. With the Burial at Sea episodes, we are building a Rapture-based narrative experience that is almost entirely built from scratch."
Don't forget that a Season Pass for Bioshock Infinite is available now for $19.99. If you are thinking of purchasing the DLCs, it's best to by the season pass and save money.