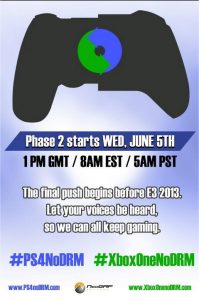 Last month, a NeoGAF member launched a huge twitter campaign convincing gamers to protest about the PS4 restricting used games and having DRM. Now the site is planning a sequel of sorts targeting the Xbox One console.
Phase 2 will include the hashtags of #XboxOneNoDRM and #PS4NoDRM. The official tweets are to start June 5th at 5am PST. Tens of thousands of gamers tweeted to official Sony employees voicing their opinions for the PS4 not to include any anti-consumer policies. Now gamers are targeting both Sony and Microsoft with phase 2. The Xbox One has been controversial since its announcement last month and a lot of gamers are upset on the "features" it will bring to the video game industry.
For more information about this, visit NeoGAF.