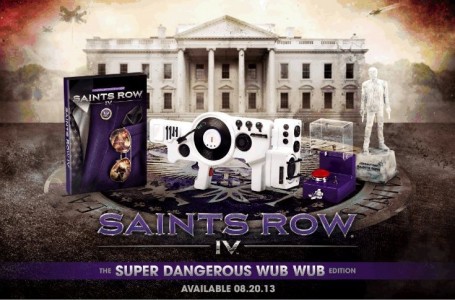 Deep Silver PR rep Aubrey Norris teased us all yesterday on Twitter talking about an impending Saints Row IV surprise. It turns out that surprise is the official reveal of a collector's edition for Saints Row IV, which is being called Super Dangerous Wub Wub Edition. The wacky collectible bundle can be pre-ordered from participating North American retailers and will set you back $99. Here's what spending your hard-earned money will net you:
12″ Dubstep Gun Replica with Laser and Sound (plays music from the game)
Dubstep Doomsday Button
Johnny Gat Memorial Statue
All Commander in Chief Edition Bonus Content
What are your thoughts on this collector's edition? Will you be purchasing it when Saints Row IV launches on August 20th? Let us know in the comment section below.