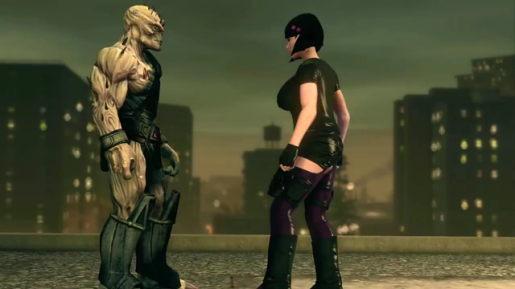 The Saints are doing fairly well for themselves nowadays. So well, in fact, that their leader is President of the United States. That's a big step up from the gang's small beginnings in Stilwater. As the Commander-in-Chief, your Saint has a lot of executive decisions to make, mostly because he's not too popular with the public. Vice President Keith David (voice of ex-Saints leader Julius) asks our character how he'd like to be remembered: the person who cured cancer or the person who put an end to hunger. You then choose either the "Fuck Cancer" or "Let Them Eat Cake" options. One executive decision down. Next a man from Congress verbally assaults us. Do you "Punch a Dickhead" (AKA hit him in the nuts) or "Punch a Dick in the Head"? I opted for the low road, delivering my presidential fist into his crotch. The choices are almost done. Josh wants to throw a party. You can choose to do it up big with the Nyte Blade actor or awkwardly walk past him and leave him hanging.
I had made my decisions and now it was time to face the press, or so I thought. Things go to hell when aliens arrive and start abducting notable Saints members. Now the President has to go all out against his attackers like Jamie Foxx in White House Down. A few head shots and nut punches later and I'm facing down the head honcho. Of course I'm no match for him just yet and he's got Shaundi. The intro ends and my demo skips ahead to the open, virtual world of Stilwater.
In Saints Row IV, the captured Saints are sent to these virtual worlds to live out their own personal hell, but our main star is finding ways to fight back, hence the addition of superpowers. Stilwater is enjoyable to explore, especially since you can now sprint faster than cars, jump higher than buildings and glide like Alex Mercer in Prototype. Even the melee attacks have been given a boost, allowing for sky-high punt kicks and acrobatic maneuvers that make Rey Mysterio's 619 look too simple. My fists were formidable foes for the extraterrestrials, but I had to try out the wacky weaponry. The Dubstep Gun blasts good 'ol wub wub music at your enemies forcing them to breakdance… and die. The other weapons were just as weird. That's mainly because new weapon skins were introduced. Desert Eagles could be transformed into sci-fi pistols and submachine guns became deadly super soakers. This new option should help players further customize gameplay to their liking, making it as epic or silly as they wish. May I recommend the American flag-painted silenced shotgun?
Weapons are nice, but powers are better. Our President can use fire, ice, telekinesis and shockwaves to rock enemies in all new ways. Lift cars and toss them effortless or freeze enemies in their place and shatter them to pieces. The options for even greater over-the-top gameplay are there. It's up to the player to figure out how to utilize them in ways the developers hadn't planned. Here's one example: I found out that one of the guns allows you to target areas for abduction. A beam comes down and lifts people high into the sky. Target the ground near you. This will lift you high into the sky, well above most buildings. You can now glide toward far away locations, scale buildings quickly or use your altitude to gain maximum moments if you choose to rocket into the ground for a massive shockwave. The tools are there, you just need to figure out how to utilize them.
Saints Row IV is set ready to set loose and let you live the wild life of a gangster President. Saints Row IV will release on PC, PlayStation 3 and Xbox 360 on August 20th.