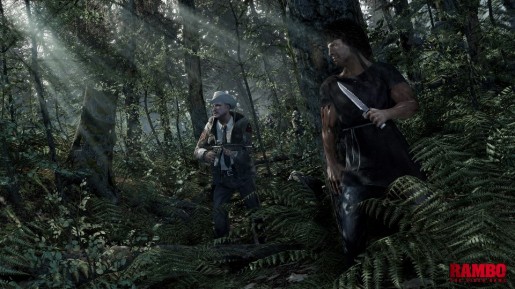 The official Rambo The Video Game Facebook page has posted a ton of new details that fans would love to hear.
If you love Slyvester Stallone and his iconic Rambo movies, you'll definitely love the action and carnage that is present in this game. Not to mention you will be able to relive some of the more memorable moments from the movies in this game.
Rambo The Video Game currently has no release date, but the game will be available for the PC, PS3 and Xbox 360.
Check out all of the new information below
Shoot-Out: All-out action in fixed-perspective shoot-outs – players will need to make tactical use of cover-options to survive the enemy onslaught. Mini-missions, multiple-paths, quick-time-events, interactive scenery and more than 25 enemy types will keep player's adrenaline-pumping.
Destruction: Unleash heavy weapons such as the M60, explosive-tipped arrows and time-bombs. Cause some wide-spread damage against hard-targets. Take control in iconic scenes from the films such as Rambo's destruction of the Police Station in First Blood.
QTE-Fight: Authentic fight scenes from the movies are recreated in third-person, quick-time-events sequences.
Fixed-Gun & Vehicle: Take aim of gun turrets and rocket launchers in an array of authentic fixed-gun and vehicle sections from Rambo: First Blood Part II and Rambo III
Stealth-Hunt: Fixed-perspective infiltrations through forests and enemy-camps armed with Rambo's trademark Bow and Knife. Dodge search-lights and time your bow attacks perfectly to silently eliminate enemies from the shadows. Knife sections will give players the choice of lethal or non-lethal force.
Bosses: Boss showdowns and take-downs from the films – everything from Rambo's single, explosive bow strike on Lieutenant Tay to shredding Russian helicopters with the DShK 12.7mm Heavy Machine Gun.'