The Shin Megami Tensei series has been one of the flagship titles of Atlus in both Japan and North America where it has always been received well by JRPG fans. Through the many Shin Megami Tensei titles that were released in Japan, not all made their way here in North America, primarily the 1997 release of Soul Hackers on the Sega Saturn. As a plethora of games being remade or ported this generation to cater it to fans who may have missed it out when it was first released, Atlus has decided to bring the classic Soul Hackers to the Nintendo 3DS.
When it comes to porting a game, one thing that consumers put into consideration is if they made any changes or improvements. In Soul Hackers, did Atlus change anything to make an almost two decade game worth playing in this generation of gamers? Let's find out in our review of Shin Megami Tensei : Devil Summoner: Soul Hackers.
HOT
Mature Storyline
One of the things about the Shin Megami Tensei series that fans loved is its mature storyline. In Soul Hackers, another captivating and mature storyline can be expected where both the technology and supernatural factors are combined once again. The game takes place in Anami City where everything seems to be revolutionized by the internet and the new MMO that one corporation has designed called Paradigm X. In that MMO itself, mysteries and supernatural forces engulf that game and it's up to the 'Spookies' (a group of young hackers) to solve it. Throughout the lengthy adventure, prepare to meet interesting characters like Hitomi and the ghost that possess her named Nemissa. The characters that you will get to meet will certainly make a connection between the player as they will go much deeper in the game.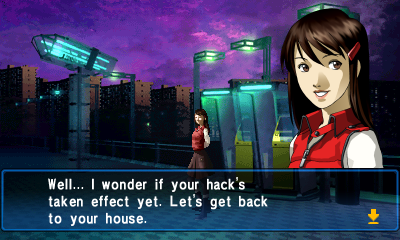 For a game that's almost two decades old, the story may seem awkward in this day and age. If at some point you feel that awkwardness, the characters that you meet will certainly entertain you and always want to know more of them. Not only do Hitomi and Nemissa make the game fun, others from the Spookies group will make it interesting as well.
Classic SMT Gameplay
Those who have played other classic Shin Megami Tensei titles, Soul Hackers will feel very familiar. Since what we're playing is a two decade year old game, expect everything to be dated and unique if you are a new generation of gamer. The progression is awkward as instead of a third person exploration, the game will be presented in first person mode. Soul Hackers is very similar to the Strange Journey that was released for the Nintendo DS several years ago where it's purely dungeon crawling. Through the map on the lower screen, players will be moving step by step and going through endless doors.
Encounters will be random and when engaged in battle, you will be in the first person mode once again. Just like other SMT games, the battle system is pretty much turn-based. Pick a command and the characters will do their attack. As the characters in the party gain a level, you can customize the stat points that you get to build up your character to make them stronger.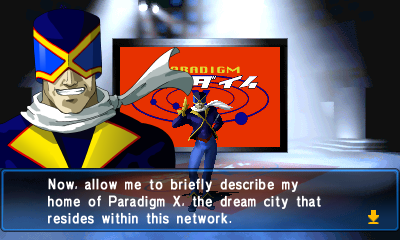 Demon Hunting
The game will not be a SMT title if there are no demons to be found. In Soul Hackers, collecting demons to your arsenal will one of the keys in winning battles. Through the gun-like computer that you receive early in the game, you will be able to catch or negotiate with the demons that you see in the battlefield to join you. As always, making a conversation will influence their decision, say the things they don't like and they will refuse and attack the party instead. In addition, fusing demons is also one of the things that you can do to raise a group of powerful demons in your party. Pretty much if you have played any Shin Megami Tensei title, you will see pretty much all of the core gameplay features to be present in Soul Hackers.
Shin Megami Tensei : Devil Summoner: Soul Hackers Review

,