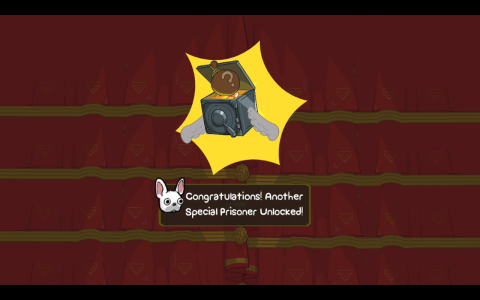 Since BattleBlock Theater released earlier this month, there has been a lot of speculation as to how you unlock the star heads. While many people suspected you had to accomplish something great in the game, it seems they're actually going to be special promotions for checking out the Furbottom's Features.
In honor of this being the "first" week of Furbottom's Features, they're giving away an additional head to make it all the more special. The first head is Donut, which you can unlock by beating the featured single player campaign. For those looking for a greater challenge, you can do the co op (mind you Gold is free this weekend in the US) campaign for Winston the dog (named / designed off of Dan Paladin's dog). Also if you're having some serious trouble unlocking Winston, I am up for helping a few people complete these new levels, so comment with your GT and maybe I'll get back with you!
Similar to The Behemoth chicken head, these characters will only be available for a limited time. No word was given on how long Winston / Donut will be available, but The Behemoth did confirm that the prize will not always change every week.
Previous Star Heads
Star – Start the game (impossible to miss)

Alien Hominid – Get 1 achievement in Alien Hominid (still active)

Knight – Get 1 achievement in Castle Crashers (still active)
The Behemoth Logo – Play the original Furbottom's Features (dead)
Furbottom – Load the game from April 15th to April 19th (dead)
P.S. While the star heads have precise requirements to unlock, they CAN always be traded for. However, once these items are traded, there might not be a way to ever get them back. Keep this in mind prior to getting rid of once or you might make it impossible to complete your collection. Additionally, only the first 9 stages and the finale need to be completed for the head. You can do the encore / insane for additional gems, but they're not required for the head.