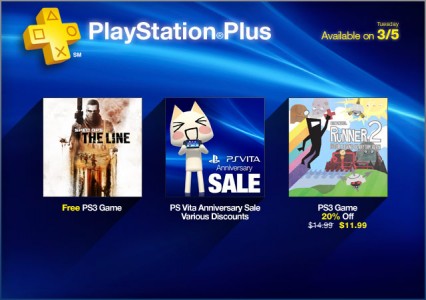 The PlayStation Blog has announced PlayStation Plus' March content, and there are plenty of new free games coming our way. PS Plus will be adding five titles to the ever-growing Instant Game Collection.
To kick things off, PS Plus subscribers will gain access to Yager Development's twisted, third-person shooter Spec Ops: The Line. The dark military tale is worth your hard drive space; our review says so. Next up we have Joe Danger 2: The Movie. The explosive thrill ride is another quality title that you should consider downloading for hours of fun, epic stunts and laughter. Double Fine's fairly new downloadable title The Cave has even made the Instant Game Collection list. Vita owners haven't been left out. The fourth free game is Disgaea 3: Absence of Detention. Finally, we'll be getting Tekken 6 for the PSP. Although it is a PSP game, it is compatible with the PS Vita.
So, there you have it. March is offering up a variety of games for PS Plus members. Which ones will you be downloading?