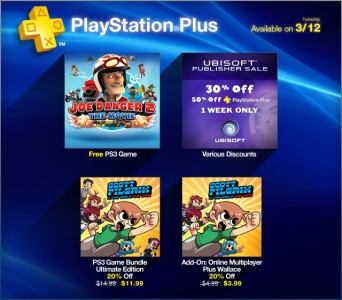 When the PlayStation Store updates tomorrow, PS Plus subscribers will have an opportunity once again to download a free game; Joe Danger 2.
Along with the free Joe Danger 2 this week, PS Plus subscribers can also purchase a plethora of discounted games from the huge library of Ubisoft games. Great titles like Tom Clancy's End War, Rayman Origins, Dungeon Hunter Alliance, and the Prince of Persia series will be on sale tomorrow. Those who are not a subscriber can still get a discount but it won't be much as PlayStation Plus subscribers would get.
For the complete list of Ubisoft games that will be on sale tomorrow, check out the update on the PlayStation Store.