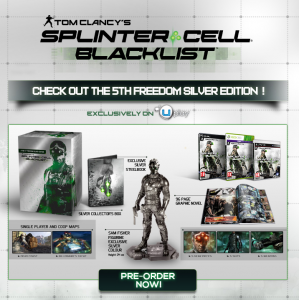 North American gamers have a remote controlled plane for their collector's edition for Splinter Cell Blacklist. PAL gamers instead will receive a huge statue of Sam Fisher.
It's officially called the "Splinter Cell Blacklist '5th Freedom' Collector's Edition" and it's a Uplay exclusive.
You get the following items:
-Silver Collector's Box
-Exclusive Silver Steelbook
-96 Page Graphic Novel
-24cm tall Sam Fisher figurine
The DLC items include:
-The 'Dead Coast' and 'Billionaire's Yacht' maps – which can be played solo or with a buddy.
-Gold and Amber goggles, Ghost Boots, Armored Boots, and Tactical Gloves
-The Elite Digital Ghillie Suit, Spy Suit, Mercenary Suit, Upper Echelon Suit, and Eclipse Suit
-VSS Sniper Rifle, M1014 Tactical Shotgun, HK 416 Assault Rifle, F40 Pistol and Crossbow
The Splinter Cell Blacklist '5th Freedom Edition' will be available for the Xbox 360, PS3 and PC.
For more information on how to order this, visit the official site by clicking here.