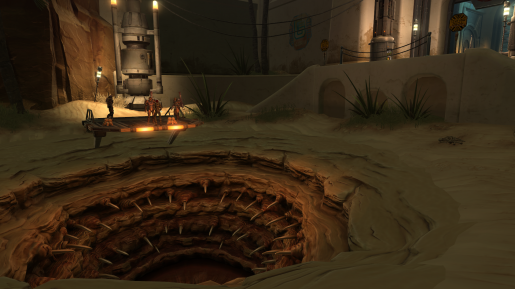 As we head closer to the release of The Rise of the Hutt Cartel for SWTOR, Bioware revealed today the newest update that will come out alongside the expansion this Spring.
In the Game Update 2.0, one of the gamers should look forward to are two new operations called Scum and Villainy, a new set of abilities and a skill tree to the sixteen advanced classes available, legacy achievements and much more. Those who want to give the update a go can try it as it's now on the Public Test Server. Simply copy your character to the PTS server and you will be able to play and try out the content.
No release date has been given so far for the Game Update 2.0. However, since it has the new abilities and skill trees for level fifty to fifty-five players, it will be released around the same time as Rise of the Hutt Cartel, which lands this Spring, since one of the key features of the digital expansion is the increased level cap.
If you are going to try out the new content on the Public Test Server, take note that things from the digital expansion will not be present as there will be a separate beta for it. Here is the list of things that you can expect with the new update:
– New gear available only to level 55 characters.
– A new Operation: Scum and Villainy.
– New abilities and skill trees for all 16 Advanced Classes.
– New level 55 Hard Mode Flashpoints: Hammer Station, Athiss, Mandalorian Raiders, and Cademimu.
– New Nightmare Mode Operation: Terror from Beyond.
– Legacy Achievements – Complete challenges to earn unique titles and vanity rewards across your Legacy.