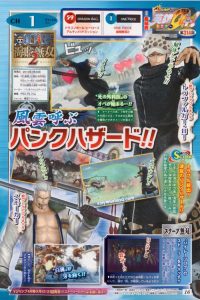 Despite One Piece: Pirate Warriors 2 releasing in a few weeks for Japan, a new scan has revealed that Law and Smoker will be playable characters.
Sadly not much else is known about these characters, but it seems like Law will be able to use his "Room" to a degree. This should make him a pretty interesting character, though they could be limited to signature moves. It also looks like Smoker will be able to use his devil fruit to a degree, though hard to say what will be useable.
In addition to the characters being revealed, the scan also mentions Punk Hazard (latest arc), which could indicate the arc is included or that a stage will be playable. I suspect it will be limited to an alternate log stage, but I suppose it would be possible to cover some of the arc.
[Source: Saiyanisland]