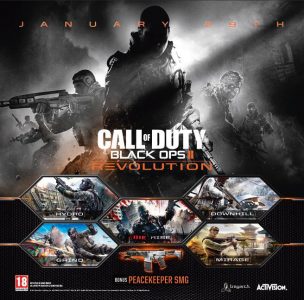 Following the release of Black Ops 2 Revolution DLC Map Pack on the Xbox 360 last month, Activision announced today the release date for the PC and PS3 version.
Scheduled for release this February 28th, both PC and PS3 gamers will finally have an opportunity to purchase or download for free (For Season Pass Owners) the Revolution DLC map pack. In the new DLC, players will be getting four new multiplayer map packs:
– Hydro: Located in Pakistan, this hydro-electric plant comes complete with a lethal spillway that floods with very little warning.
– Grind: Set in a skate park in Venice Beach (the birthplace of skateboarding!), quarter-pipes and curved surfaces drive players away from easy cover and into intense firefights.
– Downhill: A ski resort in the French Alps, this snowy map is complete with a moving gondola system that can both offer cover and crush you to death.
– Mirage: Located in China's Gobi Desert, this luxury resort has been ravaged by a sandstorm.
For non-season pass owners, the Revolution DLC pack will be available for purchase individually for $14.99.