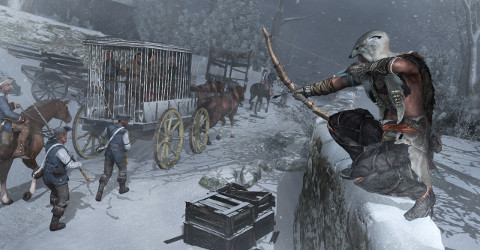 New Missions and Tasks
The way the DLC is structured is similar to the main game. Aside from doing story missions, you can open up your map and look at the missions that are available. When it comes to the type of missions up for grabs, it's not too different from the main game as it has the same style of approach. To pass the time, you can help the caravan from being ambushed by the British soldiers or defend the village from the invading army of King Washington. Also, the DLC packs new collectibles that are used to unravel something cool in regards to the game's story. None of this may be new to the game, but it's there for fans who love extending their game time.
NOT
Cliffhanger at the End
You can finish the story of the Infamy episode in around two hours. Once you reach the end, you will be presented with a cliffhanger. Since the game is heavy on story, it's just very disappointing that they have to cut the whole DLC into three episodes. This is due to Ubisoft wanting to milk more money from the consumer. However, including a cliffhanger like that at the end does nothing more than to make a lot of fans, including myself, upset. At the end of the first episode, you will feel that the story has been stretched out to further divide it into three episodes. For some, the two hour playthrough might be short, but there are sidequests out there to further expand your gameplay hours.
Sidequests Can Get Boring
As mentioned before, the Infamy episode of the DLC has a plethora of sidequests to keep players busy. While it may sound good that they try to add repayability to the game, I must say that after doing one or two missions, doing them can get tedious and boring. Since these are the type of missions we've already seen in the main entry of the game, it's hard to focus on the sidequests since they it ends up becoming the same old thing over and over.
Few Appearances of George Washington
For a DLC entirely focused on George Washignton himself, many may assume that he would be the main star of the content, leading to expectations of him taking up a lot of screen time. Sadly, that is not the case as you only get to see him in the first thirty minutes of the game. During his appearances, you may find yourself getting goosebumps as you watch him turn from a great leader into a maniacal, mad character. When you see him the first time, you will be asking for more and hope that he will stick around. Since we're on the first episode, it should be assumed that he will only appear for a very short period of time, but I'm sure we will see him more often during the second or third episode.
VERDICT
The Tyranny of King Washington first episode is off to a great start. It has a wonderful storyline that is sure to engage players from start to end, but the cliffhanger is a killer as you will immediately want to know what happens next. In terms of content aside from the story, it packs a punch, but the side missions that you can do can get tiresome. The new powers that Connor gets in this DLC look all powerful and useful, but in the end you will think twice before using them. If you are a fan of the great writing found in Assassin's Creed III and want to further expand the game's story, it's all worth the money, though you will have to wait for two more episodes to see the true ending…
[Editor's Note: Assassin's Creed III: Tyranny of King Washington – The Infamy was reviewed on the PS3 platform. The game was provided to us by the publisher for review purposes.]
Assassin's Creed III: Tyranny of King Washington - The Infamy Review

,