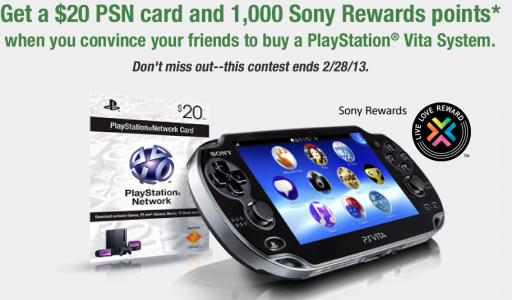 In Sony's latest venture to raise Vita awareness, they've started a new program to raise word of mouth.
From now till February 28th 2013 you can earn a $20 dollar PSN Card, plus 1,000 Sony Reward Points ($10 dollar value) just for referring and having your friend buy a PlayStation Vita. If that's not sweet enough for you, your friend will also receive a $20 dollar PSN card too. You can also repeat this up to 10 times for credit and the person with the most total referrals will earn 1 million Sony Rewards points ($10,000 dollar value).
For those interested in trying their luck, simply head to this site and register. Once you've joined the program, connivence your friends to buy a Vita and give them your referral number. Finally have them input the code and serial number, then wait 4 – 6 weeks for your PSN card.