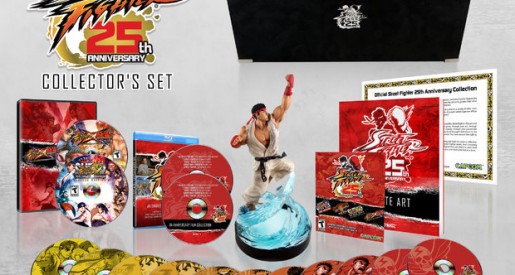 Despite actually having $150 dollars worth of content, retailers can't seem to sell out of the Street Fighter 25th Anniversary Collector's Edition. This lead to Gamestop lowering to a mere $100 dollars and for today only, Bestbuy is offering it for only $80 dollars. Needless to say, it's quite unlikely the set will drop much lower, since there is more than enough value to justify the price tag.
For those interested or simply forgot what's included, you can find a list below.
Street Fighter II Turbo HD Remix.
Street Fighter 3 Third Strike Online Edition
Super Street Fighter IV Arcade Edition

All DLC costumes included.

Street Fighter X Tekken

All 12 DLC characters and every swap costume.

The complete Saturday morning cartoon
Ryu statue (lights up)
11 disc soundtrack
64 page artbook
Martial arts belt
Special box
Certificate of authenticity
Pretty sweet deal right? Also if you're unsure what version to get, the PS3 version also includes some avatars and PS1 classics to push it over the top.