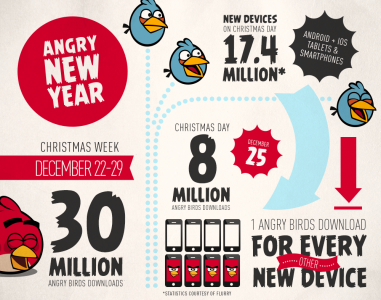 Rovio has just announced some pretty amazing stats for the number of downloads its famous Angry Birds franchise received over the Christmas period.
As you can see from the image they released, an astounding 30 million downloads for Angry Birds games were during the week of December 22nd until December 29th.
Christmas day itself proved to be the biggest ever day for Rovio. Over 8 million downloads were done in just 24 hours.
Overall, the franchise has earned over 1 billion downloads in total. This is not bad for a series of games that's about a bunch of birds using slingshots to kill a group of pigs…
Source: Rovio